How to record sounds into MP3 instead of wav format?
By default, when you click 'start recording' command in Virtual Audio Streaming systray menu, for the purpose to get the best audio quality, Virtual Audio Streaming records all sounds on the computer into uncompressed, lossless wav format. Then you can use other audio editor software such as Audacity to edit those wav files. However, if you would like to record sounds into MP3 format to reduce the disk space, you can use the MP3 audio recorder that integrated in Virtual Audio Streaming.
You can launch the MP3 Audio Recorder from Windows start menu, or, using the systray menu of Virtual Audio Streaming. See below screenshot: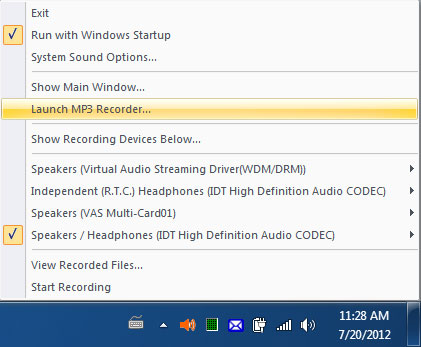 The MP3 Audio Recorder of Virtual Audio Streaming looks like:

Recorded MP3 files are located in Desktop\Libraries\Documents\Music\My Music\VirtualAudioStreaming by default, you can click the small search button on the MP3 recorder GUI to quickly open it.